We've prevented ageing for our skin with all sorts of ways from consuming supplements to putting on skincare but do you know our hair and scalp ages too?
Our hair ages intrinsically. According to TrichoKare Senior Trichologist Jane Ang, pigment cells also decrease with age, which slow down the production of melamin, resulting in greying hair. Lesser collagen and elastin also cause hair to become drier and more brittle. The hair follicle shrinks over time, the diameter of each individual hair reduces, this results in thinner hair. Are you shocked now?
But do you know that there's ways to prevent your hair from ageing? Follicularly speaking, everything lies in your scalp girl. Healthy scalp = Thicker and healthier hair — make you look & feel younger.
And a healthy and clean follicles can never be achieve just by shampooing your hair daily, you can take me as an example. This OCD lady here (me) shampoo my hair at least once a day and if I head out after I shower, I'll shampoo my hair again but guessed what? My follicles is still completely clogged. So much for being a clean freak *roll eyes*
I was invited to TK TrichoKare recently and before heading down, I've hear nothing but good things about them from Yutaki's blog, you can read his review here. You don't need to be a hair expert to understand how this will work because you'll get to see the results in just one session. Photo don't lie!
Not to forget that they have also won numerous hair awards throughout the years! The Singapore Women's Weekly Hair Awards 2017 – Best Volumising Treatment For Thinning Hair, Elle Beauty 2017 – Best Treatment For Hair Loss, Parentsworld Beauty Awards 2017 – Most Effective Hair Loss Treatment, Daily Vanity – Top 10 Trusted Hair Treatment Centre 2017 and many more.
This clearly shows how effective TrichoKare is when it comes to preventing hair loss, promoting hair growth and controlling hair fall. Still not convince? Let me show you my results in this post. You guys should know how brutally honest I am when it comes to reviewing of treatments and products 🙂
TrichoKare is a multi-award winning hair and scalp centre, using advanced formula and revolutionary technology, TrichoKare's treatments are all customised using premium European herbs validated by certified Trichologists, which have been proven to have medicinal benefits on the hair and scalp to promote hair growth.
Their trichologist diagnose my hair, you'll be shocked and probably disgusted to see the amount of oil clogged in your hair follicles and scalp if you have not done any scalp treatment before. Like I said, shampoo-ing everyday doesn't help to deep cleanse your hair follicles.
Did the Advanced Tricho Hair Test, guess what's my hair age? Thirty freaking seven, why am I even smiling now…
The trichologist explained the problem areas that was causing my hair problems: I have a greasy scalp, so there were sebum build-up and the oil was clogging up some hair follicles which impedes hair growth. This results in an excessive hair loss, hair thinning and brittle hair strands, which is the reason why my hair has aged faster than it should. Doesn't the thought of you balding when you're young scare you? I sure do.
The Trichologist pointed out that lifestyle and even diet will affect our hair and scalp health, moreover if you don't cleanse your scalp throughly, there will be residue leftover on your scalp too. This is one of the reason why hairstylist always said only apply conditioner at your hair ends.
I was recommended to try their new anti-ageing hair treatment – Advanced Age Defying Hair Treatment that helps to fight signs of ageing hair like; Thinning Hair, Grey Hair, Dryness, Brittleness and Lacklustre! It is specially developed to help both men and women counteract age-related changes in the density and diameter of their hair.
---
First Step of the Award-winning Hair & Scalp Treatment
TrichoKare customised a masque based on my scalp condition that helps to deep cleanse my hair follicles and scalp by removing impurities and excess sebum. The process takes up to 20 minutes, while you're waiting for the masque to do it's magic. It's so relaxing!
So relaxing to have my scalp treatment done while I'm having a massage, my foot is being massaged too!
20 minutes is up and we'll have to wash this off and prep for the next step!
Love their Deep Cleansing Wash so much! This will be done professionally by one of their hair experts.
They massage your head throughly while washing your hair with a soothing botanical hair wash that will deeply cleanse and regulate the pH balance of your scalp and remove the dead skin and grime. They did a double cleanse to ensure all the nasty grease and sebum build up is completely washed off!
Next up would be a new technology – Oxyjet! It uses pulsed oxygen pressure, an infusion of pure oxygen and nutrients are shot into the deep layers of the scalp. This will help to penetrate the active ingredients deeply into the scalp, fret not as this will not hurt. In fact, it feels really comfortable.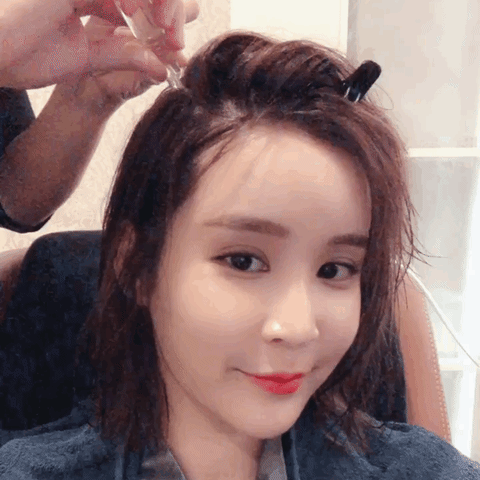 It helps to accelerate cell regeneration, infuse hair with proteins, boost collagen production to promote hair growth and control hair fall!
Last but not least, Infrared Therapy which helps to improve blood circulation, open up the pores and clean up your hair roots and prevent the follicles from becoming dormant! This intensive regeneration encourages activity on the cellular level to promote hair growth and restore your hair to its former glory.
Now let's take a look at my scalp result and as I was saying, photo don't lie. Everyone can tell that the after photo is healthier. The results are obviously visible – sebum build-up is gone and the pores also opened up which helps to encourage new hair growth. My scalp feels so clean and fresh the whole day. I was told that I can shampoo my hair 4 hours after the treatment if I want to, but I decided not to let all the nutrients ingredient go into waste and shampoo my hair the next day instead. Usually when I touch my scalp at the end of the day, my fingers will be oily but now it's less greasy and it doesn't itch even in such a humid weather.
Having seen results myself, I would strongly recommend you to try it! Hope that my review will help anyone who is looking for a solution for your hair problem!
In celebration of TrichoKare's Compass One and Orchardgateway outlet anniversary, they are offering an exclusive deal:
Discover your hair age and experience the Advanced Age Defying Hair Treatment at $39 nett including Free HairGRO Ampoule + Hair Care Kit total worth $758!
Book your appointment now: http://tk-hair.com/bm
Extra Perks: Stand to win 2D1N staycation at MBS (worth $680), after the trial treatment.
Promotion is only available at Compass One and Orchard Gateway outlet.
Website:
Facebook:
https://www.facebook.com/TkTrichokare/
Instagram:
https://www.instagram.com/tktrichokare/
🙂
Outlets:
Velocity@Novena Square, #03-19
The Clementi Mall, #05-11
Nex, #02-24
Orchard Gateway, #02-12
Compass One #04-10